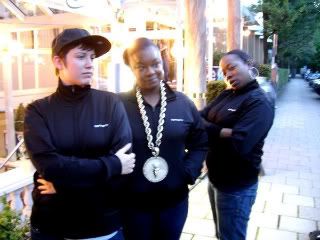 Alright, I've known Invincible for a while now. She is a dear dear friend and besides that one of the best rappers (i don't feel comfortable ever saying MC). She keeps me posted on politics I should know about and has my back when we need to fight a ho at KFC in Camden Town.
Here's her info. And Ms. things top 5s. Under Top 5s is the video we shoot for "Ropes" from her album
Shapeshifters
.RIP Ms. Butler. And the link for a sneak peek of "People Not Places"
TWITTER
MYSPACE
SHAPESHIFTERS
INVINCIBLE
's
Top 5 videos by rappers with double x chromosomes:
Searching for these was hilarious at times (LOL @ BWP's "2 minute brother"), and disappointing at others (still SMH at Busta turning Rah Digga's joint "Tight" into a BDSM dungeon scene- reminds me of her role in "13 ghosts" yikes!). There were plenty of classics that were impossible to narrow down into this short list including Lady of Rage, MC Trouble, Antoinette, Yo-Yo, and Heather B (yep, from the Real World), BUT unfortunately- waaaaaaay too few in the last decade worth mentioning. Ladies, we need to step our game up and pick up the torch where these legends left off!

#5
BO$$- "Recipe Of A Hoe"
http://www.youtube.com/watch?v=ghlGdPUD3nU
First and foremost- This song was one of my favorites as a youngun, plus I HAVE to shout out Bo$ since she's from Deeetroit! The vid looks like it was shot in one of the many vacant warehouses in our lovely city- and she stayed dipped in all Carhartt. Check out her thuggish homies stirring the recipe for gigolo-ing like it was stone soup.
#4
Jean Grae- "Taco Day":
This is one of the most brilliantly written story songs in the history of Hip-Hop, and showcases Jean's outlandish imagination. Not only has this topic never been touched on besides De La Soul's "Millie Pulled a Pistol on Santa", the video actually does it justice.

#3
Bahamadia feat. K-Swift and Mecca Star- "3 Tha Hard Way":
This was one of my favorite "jawns" off of her debut album simply because it was three dope female emcees straight spittin with no gimmicks or bullshit-and the video reflects that same sentiment. The beat is produced by the one and only DJ Premiere. It doesn't hurt that Bahamadia is one of the coolest, most down to earth people I have EVER met in this industry.

#2
Queen Latifah feat. Monie Love- "Ladies First"
Self explanatory. If this wasn't on the list I woulda given Tiombe permission to slap me.(sidenote: you have to see Anomolies' DJ Kuttin Kandi's record juggling routine to this song)

Tied for the #1 spot
:
Both of these legendary emcees are the most influential women in the Hip Hop movement in my opinion...
Roxanne Shante- "Roxanne's Revenge"
The queen of Queensbridge was only 14 when she recorded this in one take, and her motivation was a complimentary pair of Sergio Vanlente designer jeans (Marley Marl worked at their factory and had the hookup). Now known as Dr. Roxanne Shante, she has a PHD in psychology and runs an icee shop for youth in Queens. Random factoid- that's a young Lin Que helping her put on her mink! CLASSIC!
Why she would get out of her car by Astor Place at the same exact moment that her man is on the train spitting game to another lady didn't really click at first, but I guess that's a scorned woman's spidey sense at work. The synching is lined up worse than an overdubbed kung fu flick, but all the magical parts make you quickly forget the technical difficulties. CLASSIC!
ROPES
Ropes
PEOPLE NOT PLACES
http://english.aljazeera.net/programmes/playlist/2008/09/200891891658335703.html